Penetration / Crimping
This simulation is for training of isolating & crimping / repairing of damaged pipework. It allows the Emergency Response Team (IRT/SERT) to practice repair techniques on equipment which is off line but looks similar to the real plant.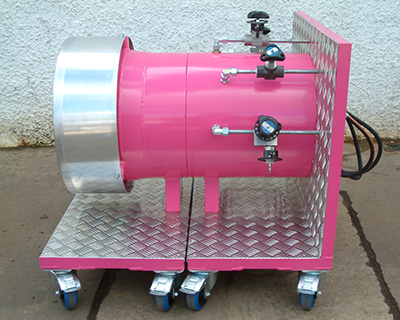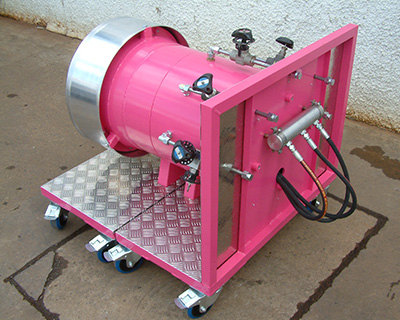 Behind the cowling is a large studded flange. The cowling and studs will be damaged / sheered to simulate a large object having been dropped onto the Penetration.
One of the main requirements of this rig was that is was small, portable & lightweight. The framework, pipe, flange, blank flange & checker plate has all been made from Aluminum. The rig has been made in 2 halves allowing it to pass through a small access route. It assembles through the bolting of an internal flange.
3 of the 5 free issue valves have been connected to a manifold to allow the pressurizing of the valves.
Each trolley is mounted on 4 swivel / lockable castors.
Designed in partnership with EDF Energy