Alignment & Vibration Analysis
This rig has been designed to assist in training apprentices and technicians in the alignment of pumps and motors. It also incorporates the facility to carry out vibration analysis.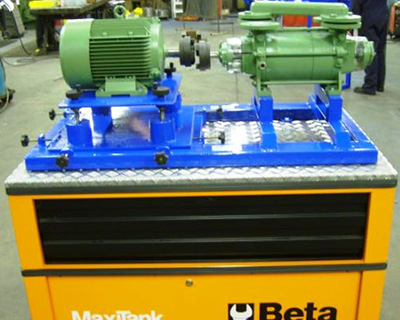 The rig shown above is a Pump and Motor Alignment Rig which is similar but will have additional features (as below) to allow the vibration analysis.
Mounted on a Beta Maxi Tank complete with Aluminium 5 Bar Checker Plate Top, the rig will have the
following features:
Machined slides to ensure low vibration
Self aligning rose joint type bearings
Top plate will screw down to clamp slides after adjustments have been made to produce a rigid set up for vibration analysis
New 3 phase steel motor (suitable for attaching magnets to introduce vibration)
Start / stop isolator box
8 off machined adaptors to allow vibration readings to be taken
Customer to supply free issue pump for Rig
Designed in partnership with EDF Energy.