Instrumentation for Calibration Training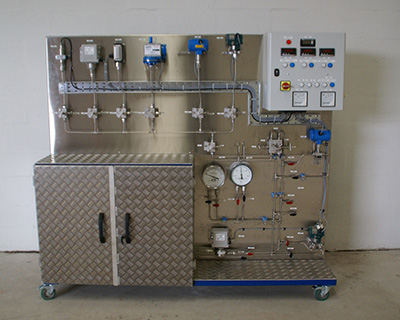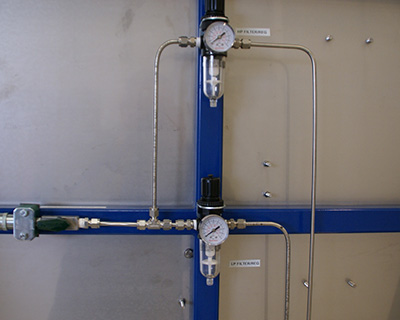 The product is mounted on a powder coated box section frame with a centrally mounted display board overlaid with polished aluminium sheet. The top surface & shelves are manufactured from aluminium 5 bar plate & the unit is carried on non-marking swivel brake castors.
This product can be used to provide initial training to technicians or apprentices as they can calibrate the instruments in the training centre before having to work on similar instruments on the plant.
Just in time training can also be carried out which would be relevant if an infrequently performed calibration is to be performed, the item on the rig could be used as a practice calibration before working on the plant.
The rig comprises both a straight pressure loop and a differential pressure loop, these are supplied by a rear mounted filter/regulator.
Each instrument on the straight loop is fed by a 2 way calibration valve and the differential loop is fed by a 5 way manifold. There are a variety of switches, transmitters, gauges, displays and meters.
This set-up enables training to ensure that the instruments are correctly isolated, vented, tested and de-isolated.
Instrumentation can be customised to meet customer site specific requirements.